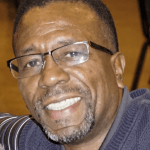 Artist Statement:
Notwithstanding that art teachers would come to your class with all her goodies. Art class became the most exciting school activity outside of during recess. Thus, art became my daily activity. That even teachers requested me to help create bulletin boards. As a six-grader I, drew all the animals matching every alphabet. Those drawing were for that year's six-grade graduation.
At graduation, I received a watch for most talented and even sold several of those drawing. My obsession continued to Jr. High School. While there I became the first ninth grader to attend the Lemuel A. Penn Center; a vocational Arts high school. Overlapping into Howard D. Woodson senior high school. Following those four years, being accepted at the Maryland Institute College of Art. Then onto Towson State's study aboard in Italy.
Finally receiving a full tuition graduate scholarship at The School of the Art Institute of Chicago. And now, I hold a Doctor of Psychology with a focus in the influence of stressors on behaviors. I currently focus on the psychological effect of art creation and the healing properties of artistic imagery.
What to expect to see