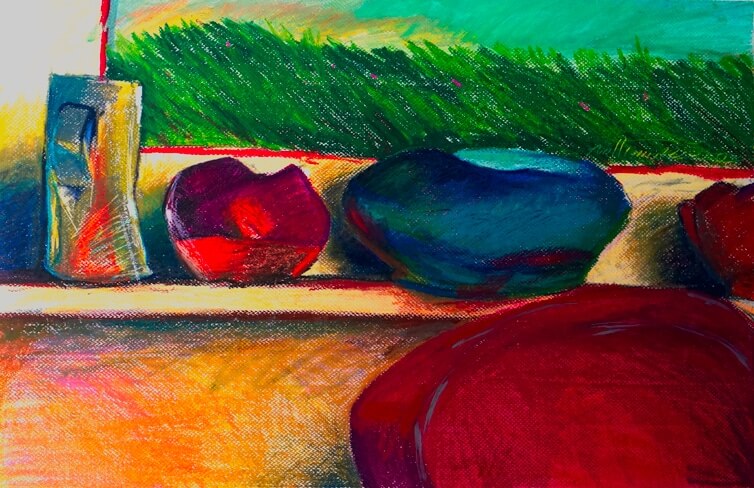 I discovered my talent for art at nine watching my big brother draw. I wanted to do everything my big brother did. Another inspiring time came while in elementary school from an art teacher. In addition, to the art teacher, other classroom teachers encouraged me to help with their bulletin boards. I was the first ninth grader attending a vocational high school for a half-day. Where, I studied for four years advertising and graphic design, screen-printing, industrial and commercial printmaking, photography, and mechanical drawing. Now looking back at that first drawing generation creates an overwhelming feeling of joy.
From the only college I applied to, I received many scholarships, where my focus shifted to painting and drawing. During my junior year, I received several awards; allowed to study painting and art history in Italy. From the three graduate schools I applied to, I received full tuition offers from each; I selected The School of the Art Institute of Chicago (SAIC).
My artist bio is a list of creative accomplishments. It is a list of exhibition experiences spanning over several decades. Furthermore, it is a descriptive dialogue about my artistic philosophies. It outlines specific time invested in additional educational years to obtain a PhD in Psychology. The introduction of which conveys a discussion into my scholarly knowledge on psychological research. That becomes my applied knowledge of making art and how they combine, and became a game changer. With these forces in hand I use elements taken from my years of study. I combine these into two processes to begin a formal construct on a Healing Philosophy intended to be applied through applied art's tools and scholarly knowledge.
Pursuit:
My artistic bio describes approaches to drawing and painting as clearer than ever before. My life's work is in combining psychological relationships with the expressive nature of human experiences. My artistic creation is about seeking ways to express the objects inner nature. I believe that artist have a responsibility to help transform the viewer's visual understanding. I sense that the art making process from the lens of healing is integral to mindfulness well-being.
Rationalization:
I produce to continue creating and seek out new ways to learn how to create. In addition, I produce artwork because it gives me a vehicle to speak about art's narrative and its nature to heal while freeing us all to become creative and expressive communities.
What to expect to see